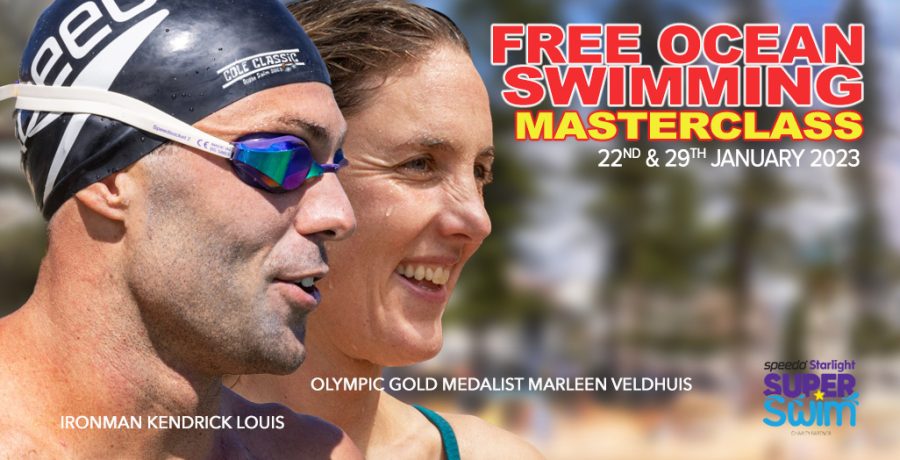 OCEAN SWIMMING MASTERCLASS
Swimmers of all levels are invited to join Ironman Kendrick Louis and Olympic gold medalist Marleen Veldhuis at a special masterclass hosted by Speedo's Starlight Super Swim and The Cole Classic. This exclusive yet free event will take place on January 22nd & 29th, 2023 and will provide participants with essential techniques for ocean swimming in preparation for the Cole Classic 2023.
Kendrick and Marleen will be joined by support team members Ollie Signorini and Hayden Cotter as they guide participants through 45 minutes of intense training. From buoy turns to drafting techniques, you'll leave the masterclass feeling confident and prepared for the Cole Classic.
Kendrick is acknowledged as one of the greatest surf swimmers in Ironman history and he will take you through the start, navigating in the open water and finishing at the beach.  Whilst Marleen with her 5 Olympic medals, 28 Championship Gold medals and 4 times world record holder will deliver invaluable techniques to glide through the water at speed.
This is a unique opportunity to learn from some of the best in the business and get a head start on your training for the Cole Classic. Don't miss out on this exclusive event – register now at coleclassic.com.au.
These sessions, which will be held at South Steyne Manly, provide the perfect opportunity to hone your skills and get swim-ready.
Whether you're a seasoned pro or new to open water swimming, register your interest today to improve your skills!
Complete the below form before Tuesday 17th January 11am. Those selected will be notified the next day;
Please note: you must be registered for the Cole Classic 2023 to be able to register for these masterclasses and you can only attend one session.
Registration for these classes have now closed.